About
High quality handmade bridle leather belts by Harry Rogers trading as Bucklehurst Ltd;.
All prices on this site include UK Postage and Packing. I also post internationally, for example to US, Europe etc. and postage is shown at checkout before you have to enter any personal details. I accept all major credit cards and Paypal, and I provide postal tracking so your belt is insured.

I make traditional bridle leather belts as I was fed up with saggy high street belts that simply do not last.
A belt can be described as leather even though it may be made from minced up shoes glued together like chipboard, or from split leather whereby you get a thin nasty belt backed with plastic or cloth.
I use full thickness, full grain, traditional pit tanned vegetable tanned leather.....leather like it used to be!
Most of my belts are made using bridle back leather....thats the best part of the hide, and the strongest.
In making the belts I pay attention to the little details that add up to make a great belt...I round and polish the edges so the belt is comfortable, I apply traditional saddlers crease lines down its length, I slim the leather behind the buckle so it sits flatter, I use oval holes as these are stronger than round ones....on the Blog link is a film that shows you how I make a belt....you will not find these details on all handmade belts!

If the belt you want is out of stock please contact me at harrycycle@ gmail.com as I can usually make one for you in a few days.

For my handmade bags please see my Etsy shop at: https://www.etsy.com/uk/shop/BucklehurstLeather?ref=hdr_shop_menu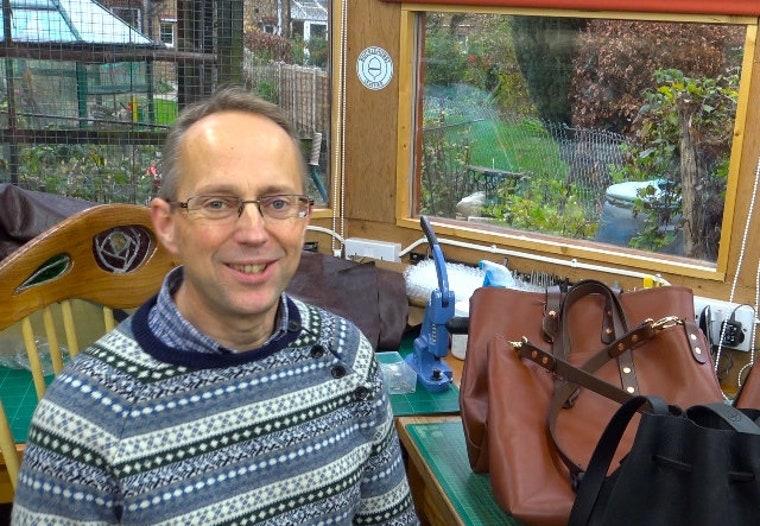 I get a lot of lovely feedback, and here are some examples:

Another amazing belt! ★★★★★

Thanks again for another marvelous belt – the oak tanned leather is simply beautiful. Harry's service and craftmanship is top notch! Whenever I'm wearing that belt it makes me feel good. Highly recommended.
Excellent quality as usual -
★★★★★
This is my third purchase from Bucklehurst, and yet again I am impressed with the quality of the belt. Thank you Harry.
Bucklehurst leather belt
★★★★★
I previously ordered a leather belt from Bucklehurst. They're made from top quality bridle leather (not the bonded leathers you see in most high street stores) so this is built to last and the quality and finish are top notch - so pleased in fact this review is for the two further belts I ordered in different widths and colours. These hand made belts are exceptional value - I thoroughly recommend you treat yourself - you won't be disappointed!
Quality Leather ★★★★★
Fantastic quality fantastic service, I can not recommend Harry highly enough, Thanks.
2nd order, great belts, great value ★★★★★
This is my second order. Great service, great belts. Highly recommended.
Wonderful product ★★★★★
This is a wonderful addition to my belt collection and will be my daily wear. It replaces my beloved 26 year old belt that I've loved to its finish. The leather quality is top notch and flexible. Fitting is excellent and the buckle superb. I particularly like the tram lines and the the colour which is superb. Great price too. Thanks Harry.
Highly Recommended ★★★★★
I will buy again my belts from this shop. Top quality product, delivered on time in good shape, excellent customer experience.
Beautiful belt ★★★★★

We bought 2 belts from Harry. One for my son and one for myself. I must say they are beautiful. You can see that these handcrafted belts are made by a skilled man loving his work! I reckon they will survive me...Great work Harry and thanks again.
Birthday gift ★★★★★
There was a delay in me writing this review as it was a Birthday gift from my daughter. If you watch Harry's video you will appreciate all the care and attention he puts into making a belt and you know you're going to receive a beautifully hand crafted product. So no surprises, belt is superb - lovely quality black leather - will certainly last a lifetime. Postage was really quick and it arrives in a very nice presentation box. I know my leather and if you need a belt - don't waste your money with shop bought 'reconstituted' leather that will fall apart - buy the real deal from Harry! PS - brown belt next - hmm - no guesses where from.
Belt or Belt Loops: Who is the Real Hero? ★★★★★
I have often struggled to rectify the relationship between my belts and the belt loops that adorn my pants. As the situation stands, it seems the belt loops are holding up the belt while the belt is simultaneously holding up the pants, this has left me divided on who exactly gets the glory : ) However, upon receiving my beautifully wrapped, hand-made Bucklehurst Leather belt I believe the debate is finally over! Nothing can surpass the quality and craftsmanship of this expertly made belt. Its elegance and function combine to form a piece that transcends its utility. I have never really felt proud to put on a belt until now. After watching Harry Rogers video on how his belts are made and learning terms like skiving, slicking, saddler creasing, and beveling, the deficiencies found in my other leather belts are now glaringly obvious. I think one important aspect of high quality craftsmanship is in the education of consumers. Harry Rogers achieved this by not only allowing me the opportunity to buy a well-made leather belt, but also teaching me how to identify the marks of a fine leather worker that can assist me in future purchases of other leather made products. Also it smells great! Thanks again Harry!
Belt Up And Buy One! ★★★★★
Belts are something I've spent most of my life taking for granted, but not any more. I found out about Bucklehurst Leather by watching Harry's informative video on YouTube. Understanding the work that's gone into the belt has certainly helped me appreciate why it isn't just any old belt -it's a quality item that's been handcrafted to make it really something special. The service from Harry and the presentation of the belt were exemplary too. Highly recommended - with no reservations whatsoever.